Info
| | |
| --- | --- |
| District: | Kreuzberg |
| Address: | Obentrautstr. 19-21 |
| Opening hours: | Fri + Sat from 23.30h + additional dates |
| Floors: | 2 |
| Prices/Admission:: | Party from 8€ – Concerts more |
| Special features: | Innovative booking, outdoor area in summer. The former ICON operators know their trade. |
| Music styles: | Drum + Bass Dubstep Electro IDM Nu-Jazz |
| Type: | Bar, Club, Live club |
| Website: | http://www.gretchen-club.de |
Gretchen
Gretchen's program as a (live) club reflects the complexity of current musical trends.
Gretchen Berlin is electronic to unplugged, presents DJ sets and live concerts. Musical quality of genre and artist are decisive, not limited imagination, bigotry or boredom.
The place represents Berlin, gives a platform to national and international artists, their labels, but also newcomers. "Berlin's premier club for leftfield beats." (earmilk) In the middle of Kreuzberg, in the former stables of the Prussian 1st Guard Dragoon Regiment Queen Victoria of Great Britain and Ireland from 1854, the nightclub presents itself in historical charm paired with cool club design.
The venue is named after a character from Goethe's Faust and is located in a 19th century building that used to be an imperial horse stable.
The beautiful cross vault, the filigree columns are sounded by beats and basses, light installations surround and released to a musically interested audience. The word stands for purity, honesty and innocence. At the same time, it is the object of desire for Goethe's Faust. But Getchen is also perhaps the most brutal serial killer in modern literature. STRAIGHT are in the end both…
The location is in Kreuzberg directly in the former factory area. Party here to the best beats to electro dubstep and new jazz. The venerable halls offer the perfect atmosphere for a club of this kind and the Gretchen is also quite typical for Berlin.
Here everything is still limited to the most essential and that is just the music. Also at the New Year's Eve party, the Gretchen remains true to Drum'n'Bass, Trap, Funk, Soul are offered on a total of three floors.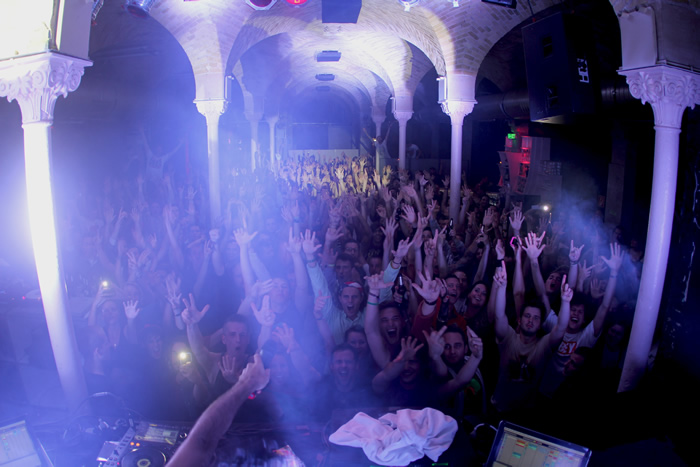 Of course, the owners have modernized the factory premises a little. After a boisterous dance, guests can relax in the lounge furniture and have a tasty and cool drink.
Gretchen in Berlin is currently one of the most famous nightclubs in the city and the crowd is always very large, especially on Saturday. You want to visit an exuberantly good electro party? Then this dance club in Berlin Kreuzberg is highly recommended.
Due to the very good location, you can reach the event location easily and comfortably by public transport. Dancing and partying is of course until the sun rises. The dress code is loose in this club, you can come as you want.
The drinks are cool and cheap and the music loud and good – what more can be asked of a nightclub in Berlin? The Gretchen is always worth a visit.
Upcoming events:
Comments:
Cindy Drama Queen
Gretchen has been open since 2011 and has a solid track record of delighting music lovers with choice acts – both DJ and live – from across the musical spectrum.
Depending on the night, the line-up can lean towards electronica, drum'n'bass, funk, hip-hop, jazz or even acoustic sessions.
Traditionally, for example, on the first Saturday of every month, the Recycle party series gets together and celebrates the golden days of the Icon Club (1996 – 2012) at Gretchen.
The Recycle party series started back in the 90s, at that time still at Acud.
Later it moved to the Icon.
That brought it more attention and thus more people showing up to the events.
Of course, there were other good parties in town, but none of them were weekly, which basically meant that if you liked drum'n'bass, you knew where to go every Saturday without asking around or grabbing as many flyers as you could in the clubs.
Remember, we're talking about the mid-90s, when you couldn't just go on Facebook real quick and check out what was going on the next weekend.
Recycle – Berlin's finest Drum'n'Bass became a name that was known all over Germany and people even traveled from other cities to party at Icon Club. These were good times, Jungle and Drum'n'Bass were a young genre and it seemed like there were no restrictions or limitations.
While other crews and promoters tried to establish regular drum'n'bass nights in Berlin but failed or gave up after a short time, the Recycle party series continued with finest drum'n'bass nights in Berlin and even managed to survive the times when many critics declared the genre dead.
Probably just the atmosphere at the events was a big point for the success of the party series.
There was that feeling of coming to a party at good friends' houses, where you might not know everyone, but can still chat and party together.
As with all successful party series, however, the particular location where the party series is held must also be considered as a factor in its success.
The bartenders didn't use a measuring cup, which was certainly to people's advantage, and the prices were fairer than in most other Berlin clubs.
The Icon was located in an old red brick building in Prenzlauer Berg, which was a brewery in the early 1900s that had a huge catacomb-like basement. It was there that the Icon Club was born.
What made the Icon so special?
Obviously, the creators of the Icon somehow managed to create a special venue.
It was probably a mix of the right bookings and the right staff that made people feel like they were partying with friends, whether you lived just around the corner or were a tourist.
Ikons regulars highlighted the family atmosphere between staff and crowd, the friendly door, and the peaceful vibe at parties, regardless of how crowded the venue was.
Icon fell victim to gentrification in Prenzlauer Berg in 2012.
Sad times not only for Berlin's drum'n'bass scene, but also for the local club scene itself, as gentrification began to have a major impact on the capital's nightlife.
There were fewer and fewer clubs and parties, especially in Mitte and Prenzlauer Berg, the strongholds of the 90s.
Fortunately, the makers of Icon were smart enough to start looking for a new venue back in early 2011 and found the space in Kreuzberg where they opened Gretchen.
Behind the inconspicuous exterior is a cavernous room with a high cross vault and slender columns from the time when the stables of a 19th-century Prussian cavalry regiment were located here. The name Gretchen, by the way, was inspired by a character in Goethe's famous play "Faust".
Although the club opened only in the recent past, many people have fallen in love with it.
The operators are committed to alternative music genres.
Recycle moved into the Gretchen.
A lot has changed with the new club.
The frequency and lineup of parties in the series changed.
If the parties at the Icon Club usually had one or two special guests performing and partying at each event, and the parties were held on a weekly basis, at Gretchen the new idea was implemented: there were fewer, but bigger events.
From now on, the best drum'n'bass nights in Berlin took place once or twice a month. The number of guests increased up to four guests.
In addition, the so-called Classix nights were also held, but this already began in the Icon.
The concept of these nights is to celebrate together with other crews. Friends and locals from other crews are invited to play their personal classics, hits and evergreens of the genre since its inception. In this sense, it's a little history lesson for the younger crowd and a place of remembrance for the older ones.
After many more successful years at Gretchen, this party series is legendary. Recycle has maintained its place and proved that it is the top class of drum'n'bass and is not called Berlin's finest drum'n'bass for nothing.
Each event is another gathering of people with the same interests who want to have fun, party and listen to good music.
It's a little off the beaten path of Kreuzberg and Friedrichshain, tucked away in a corner of Kreuzberg, away from the other nightclubs. Welcome to Kreuzberg 61, near Mehringdamm and Bergmannstrasse.
The Gretchen, an unobtrusive dance club with a great sound, an eclectic cross-cultural lineup and a mixed crowd in the middle of a historic setting.
This will give you a series of outstanding experiences and you will fall in love with what you experience there.
Tanja
Gretchen has been open since 2011 and has a solid track record of delighting music lovers with select acts – both DJ and live – from across the musical spectrum.
The performances and parties in this Kreuzberg club are mainly electro, house, dubstep, hip-hop and experimental.
The club does not follow the house and techno trends of the city, but also mainly focuses on alternative genres like dubstep, drum and bass, jungle, garage and electro.
The result is a refreshingly different atmosphere and crowd. Clubgoers dance on platforms and really let loose.
Gretchen is one of the impressive venues to be seen in the Kreuzberg district.
The club has a large stage, so it is also perfect as a place for many concerts.
Gretchen is dimly lit, with the red neon lights that illuminate the ceiling and the club's signature interior arches turned off, while the staff is friendly and the drinks are reasonably priced.
Next to the large dance floor, there are always plenty of places to sit and chill.
Or to have
a drink at the bar and sit back to enjoy the unique atmosphere that Club offers.
The door is known for having no policy other than not being too drunk, on drugs or underage. This mixture makes it a place for everyone, from young to old, from rich to poor or other social boundaries.
Here there have been wonderful moments, incredible live acts, impressive DJ sets and outstanding performances especially in the drum and bass area.
The philosophy of the operators has always been to promote new artists and exceptional music, which means a lot of love for music, digging, researching and focusing on the latest trends – or better: being a tastemaker.
All the work they put in is definitely paying off. You just have to see people leaving Gretchen exhausted but with big smiles on their faces after a DJ set, concert, party, club night or any other event.
Christel
Drum and bass
Ever been to the Gretchen? What is drum and bass? sometimes also drum'n'bass, drum bass or abbreviated DnB, is a genre of electronic music that emerged in the UK, more specifically in the Bristol region, around 1996-1997, when the amen break was replaced by the 2-step and heralded the end of the era of jungle2,3. The term drum and bass emerged around 1992 to describe the hardcore breakbeat. It is characterised by a breakbeat rhythm, a 2-step rhythm structure and heavy1 bass lines with a low frequency. These two components form the essence of the genre. The melody is usually minimal and usually serves as an accentuation of the drums, which are extremely repetitive. Drum and bass can be underpinned with fast spoken lyrics that are rhythmically accompanied by an MC.
This music is usually played in clubs and sometimes at free parties. It also borrows copious sounds from jazz1, ragga, funk, soul, techno, hip-hop and even classical music, especially through the use of samples. This variety of musical colours allows it to express a very diverse range of emotions, while the tempo is usually between 160 and 190 BPM4. Consistency of tempo is a key element of the DJ's musical practice. Here are some influential artists and labels from 2015: Andy C (founder of the RAM label), Friction (founder of the Shogun LTD label), London Elektricity (founder of the Hospital label), Noisia (founder of the Vision label) and Goldie (founder of Metalheadz).
Features
3:49
A drum and bass music. Notice the rhythm from 0:15 and the Reese bass from 0:16, which are characteristic of the genre .
There are many ways to define drum and bass as the genre is very eclectic, from the powerful drum lines of techstep without vocals to the relaxed atmospheres of liquid funk. The genre has been compared to jazz, where the listener could hear very different sounds, but still from the same genre of music, because like drum and bass, it is more of an approach or tradition than a style. The sounds of drum and bass are extremely diverse, and someone unfamiliar with these styles may find few similarities or differences between all the subgenres.
Drum and bass can be defined as a strictly electronic genre of music, with a tempo between 160 and 190 BPM, a syncopated rhythm known as a 2-step, and an omnipresent bass. A live performance of drum and bass often consists of a DJ playing one track at a time, using effects and mixing with several turntables, possibly a computer and sometimes an MC who does the vocal parts and interacts with the crowd. Some groups (like Pendulum or Netsky at some concerts) use acoustic or amplified instruments like drums or synthesizers. There are a number of common features that define the sound of drum and bass.
The name "drum and bass" does not mean that the pieces consist only of these two elements. Nevertheless, they are the predominant and most important components of a piece. Despite the seemingly simple sounds to an untrained ear, a lot of time is invested by the most talented producers in preparing the tracks.
Bass lines
The genre attaches great importance to the bass line: deep, offensive and omnipresent, felt both physically and aurally. There is also a lot of experimentation with the different timbres a bassline can take on, especially in techstep. The bass line has many different origins, but most often it comes from sampled sources or synthesizers. Basslines created with a real bass, be it electric, acoustic or double bass, are rare. Sampled bass lines are often taken from double bass recordings or from publicly available loops (music loops). Synthesised bass lines are the most common.
Bass lines are subject to numerous and varied effects modules such as dynamic compression, flanger, chorus, overdrive, equalizer, etc. There are also special techniques like the Reese Bass, which is very often sampled and processed, starting from the bass in Just Another Chance by Kevin Saunderson5. This is a bass made up of at least two very slightly detuned synthesizers, often emitting square or sawtooth waves to create that distinctive sound. The nasally, thick Reese bass is used by composers such as Pendulum.
Drums
Kick: A big, downward blow (the sound is stretched) that has been experimented with a lot over the years. In fact, this drum pattern has been used to create powerful bass lines. This technique is very popular in a nightclub or at a rave, where bass cabinets combined with powerful amplifiers can fully reproduce the specific sound of the Roland TR-808, which is sometimes so deep that it is no longer audible (but physically noticeable[ref. needed]). This led to the creation of large and powerful sound systems on which producers could make their tracks heard in a hi-fi environment, such as Dillinja's Valve Sound System. However, this does not mean that the music cannot be enjoyed on a personal device.
The complex syncopation of drum lines, breakbeats, is another facet of production that composers spend much of their time on. Preparing a drum phrase that lasts only a few seconds can sometimes take a day or more, depending on how much time the composer invests. In most pieces, the breakbeat is created by assembling a rhythm from separate samples of acoustic drum elements. The most common sample, especially in the early days, is the Amen Break6, a break sampled by the Winstons from the track Amen Brother. This break is very energetic and was also frequently used in Jungle music earlier on. Other samples had a significant influence, such as the Apache Break, the Funky Drummer and others. The Funky Drummer, which comes from the James Brown song of the same name Funky Drummer, may have replaced the Amen in modern productions, but the Amen is still recognised as a very energetic break.
Another commonly used break is the Tramen, a combined beat that is perhaps the ultimate fusion of musical mixing in drum and bass, as it combines the Amen, a funky breakbeat by the Winstons and a drum and bass breakbeat by Alex Reece. The very fast drum line of this musical genre forms a canvas on which the composer creates pieces that can suit any taste. It also serves as a musical background for all the tracks that make up a piece. Furthermore, without a fast, broken beat, a drum-and-bass piece would become a production that could be described as gabber, techno or house.
Tempo
The tempo of drum and bass is usually between 160 and 180 BPM, but it is agreed that the average is currently 175 BPM, unlike other breakbeat forms such as Nu Skool breaks which maintain a slower tempo around 120 and 140 BPM. A general increase in tempo was observed during the development of drum and bass. The first old-school raves were at 125 and 135 BPM in 1989/1991, the emerging forms of jungle and hardcore breakbeat (1992/1993) were faster: 155 to 169 BPM, artists like REMARC! have 169.5 BPM. Since about 1996, drum-and-bass tempos have mostly stagnated between 173 and 180 BPM. Recently, some producers have started composing tracks in slower tempos (i.e. 150 and 160) again, but the tempo ~170 remains the hallmark of drum and bass. A piece that combines the same elements as a drum and bass piece but has a slower tempo (i.e. 140 BPM) would be considered a drum and bass influenced breakbeat piece.
The speed of drum and bass is not only characterised by the broken beat anyway. Drum and bass has a bass line that is typically played at half the speed of the drum part, reducing the speed to that of a hip-hop song, for example. A listener or dancer can then focus on this element rather than the faster drums. The speed of music is subjective. An aggressive piece consisting of a beat and a complicated synthesiser may seem faster than a piece consisting of double bass samples, guitar riffs and a simpler beat, noting that the second piece might be faster in terms of BPM. Tracks played on the radio like Shake Ur Body by Shy FX are sometimes faster than the uninhibited techstep tracks that can easily throw the untrained off the dancefloor. Interestingly, the faster the song is in terms of BPM, the less complicated the drumming is. This is because the drum elements can no longer be heard individually and form a wall of sound when the tempo is too fast. A fast drum and bass song will therefore usually have a less complex drum line than a slower one. Live drum and bass performances on electric or acoustic instruments often require a relatively lower BPM, which is not surprising given the complexity of the drum beats and the high demands placed on the drummer.
Background
Drum and bass is a form of electronic music usually designed for listening in clubs. All frequencies are represented in it, and the physical sensations it conveys simply cannot be fully enjoyed on a home stereo. As the name suggests, the bass is particularly pronounced, deeper and heavier than in other electronic music styles. This is why drum and bass parties are sometimes stated to contain sound systems that are particularly rich in low frequencies.
However, there are many albums specifically designed for listening at home. Particularly popular are CDs with mixes created live or on the computer by a famous DJ that contain tracks suitable for listening in the living room. In addition, there are also albums with unmixed tracks that are perfect for listening at home or in the car, especially those from the genre of liquid funk.
Importance of the DJ and the MC Aphrodite at Moscow action of the Pirate Station from 2009: Immortal, the world's biggest festival for drum and bass.
Drum and bass is often heard through a DJ. In fact, in terms of their structure, which includes long intros and outros that make beatmatching easier for the DJ, most tracks are made for mixing rather than for a whole listening experience. The DJ generally mixes the tracks so that the continuous beat is not lost. In addition, the DJ may use techniques adopted from hip-hop such as scratching, double-drop and rewind.
Many mixes begin or end with a drop. The drop is the moment when a rhythm or bass line change occurs in the song, and it is usually followed by a section that is recognisable by its build-up and a breakdown. Sometimes the drop is also used to transition to another track, layering elements from the different tracks. At this point, the two records can simply be in a more ambient phase, but some DJs prefer to combine the breakbeats, a more difficult exercise. Some drops are so popular that the DJ does a rewind or reload, spinning the record to bring it back to the starting point of the drop build-up. The drop is often a key element from a dancefloor perspective, as the drum breaks step back to start again from an ambient intro. When the beats kick back in, they are often more complex and accompanied by a stronger bassline, encouraging the crowd to dance. The name of one genre of drum and bass, Jump Up, originally refers to the urge of those sitting down to dance at that moment.
Subgenres
3:01
A drum funk music.
4:04
A liquid funk music.
Pay attention to the melodiousness of the voices and sounds as well as a fluid rhythm.
Smaller initiatives have formed within the drum and bass community, which are gradually being broken down into more specific sub-genres. Among the most common are: Neurofunk3, Liquid Funk3, Jump-up4,3,7, Darkstep4,3, Dancefloor DnB2, Deep DnB2, Drumfunk (Choppage or Edits), Electrostep (or Trancestep), Autonomic, Futurestep, Hardstep4,3, Intelligent Drum and Bass (Atmospheric or Ambient)4, Jazzstep (or Jazz and Bass)4,3, Sambass (or Brazilian Drum and Bass)8 and Techstep3,9.
The following are more or less subgenres in the true sense, at least that's how they would be described by their regulars:
Breakcore3: Certainly a different genre, but not a subgenre in the proper sense, many differences.
Darkcore3 (not to be confused with doomcore): both a precursor and a descendant of drum and bass, as darkcore music productions are close to techstep, from which four styles emerged: Breakcore, faster, more distorted and often politicised; Darkstep, a hard and violent version of Techstep; Neurofunk, a kind of hard futuristic funk, and finally Techo-Dnb, initiated by Proket and the label Offkey. Darkcore is the music of the cyberpunks.
Drill and Bass: A mixture of breakcore and IDM. The pioneers of this style include Aphex Twin and Squarepusher.
Drumstep: The genre picks up the fast tempo of drum and bass with the rhythmic structure of dubstep. The wobble bass in the mid frequencies is also very present, making the genre sonically similar to brostep.
Raggacore: Certainly a different genre, but not a subgenre in the true sense, there are many differences. It's a sub-genre of breakcore.
Ragga jungle3: Certainly a different genre, but not a sub-genre in the proper sense – a modern jungle-inspired sound very similar to early jungle tracks – the two are even hard to distinguish – perhaps because of the frequent references to the sounds of H.I.M. Haile Selassie or Rastafarian. This style is a direct reference to the drum-and-bass productions of the years 1994-1995. However, very many productions now contain elements of reggae or dancehall, which are simply less dominant than before.
Roller: Often considered a subgenre by part of the community, but strictly speaking it is not10. It is a drum-and-bass style characterised by a particular atmosphere, with shrill, continuous bass lines during the drop and a loop of very dry-sounding percussion instruments.
Like all attempts to classify or define music genres, the classification made above should by no means be regarded as definitive. Many producers release albums that could be placed in more than one of the above categories, and there are many different criteria involved in classifying songs and simply defining a subgenre. In particular, the list of potential sub-genres should by no means be considered definitive.
I, for one, will be celebrating many more nights at the Gretchen about this.
German – English – French – Italian – Spanish